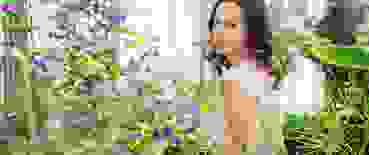 Nice to meet you, Yulia Kirschner!
Who works at Zeller in the International Department? Who are you e-mailing, calling or meeting with? Let us introduce ourselves.
Nice to meet you, Yulia Kirschner!
Who works at Zeller in the International Department? Who are you e-mailing, calling or meeting with? Let us introduce ourselves.
Hi Yulia, how long have you been part of the Zeller journey?
I've been working for Zeller for 10 years now.
What is your current role at Zeller?
I'm Director International Division, member of the Executive Board.
What drew you to Zeller originally? And how has Zeller changed since?
Zeller was seeking an International Business Development Manager at that time. I remember that I visited the company's website to learn more about the company and was very much impressed by the idea of evidence-based phyto-pharmaceuticals. I could identify with the "seed to patient" approach and this was a decisive inspiration for my application. As a medium-sized family owned company, Zeller went through an amazing development over the last 10 years. In our home market Switzerland, Zeller has established phyto-pharmaceuticals as a first choice in the first line treatment among the health professionals. We have also in-licensed a number of great phyto-pharmaceutical products from well-known European manufacturers. Our international business has been expanded with business to Asian markets such as Korea, Japan and Taiwan and has grown in new Eastern Europe markets: Ukraine, Belarus and Kazakhstan.
As the field continues to bring forward new, safe and efficacious plant-based medicines, from your perspective, what does the future of phytomedicine looks like?
Some 10 years ago phyto was still a niche, but today we can reliably say that phyto is part of the global trend. According to credible sources, global herbal medicine market is expected to reach a value of USD 411.2 billion by the year 2026. Increasing product adoption by the population across the world, rising support and funding from government for research und development of phyto-pharmaceuticals and easy availability of the product are the major factors propelling the industry growth. Further, benefits such as fewer side effects and good tolerability are also contributing to phyto market outlook.
What has been your greatest achievement or highlight at Zeller?
I am lucky and also proud to say that there were a number of great achievements and highlights during my time at Zeller. Launch of our PMS product in Japan, pioneer work in establishing Zeller products in Korea, successful road shows with great KOLs in Baltics, Ukraine and Israel. It feels like a great achievement every time I am entering a pharmacy in one of our markets and immediately see our products on the shelves.
How do you balance your career at Zeller with your personal life?
I never had this clear separation between my working and my leisure time. This is probably only possible, if you are really passionate about the job and I am definitely "zellerized". I also rarely use an absence message in Outlook when I'm on vacation, since I know that I will check my mails at least once a day. It does not disturb me and even helps me to be up to date when I am back to the office.
Topics
Filter blog posts by topic by clicking on the tags.